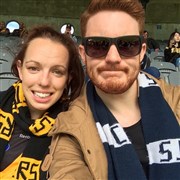 Joel Taylor

Expires
Friday, 1 January 2016
Skiing in my BONDS and Running 21km for JMB Foundation
TARGET CHALLENGE, LETS GET BONDS TO MATCH US $ FOR $
We smashed our target of $500 in less than 24 hours, so as promised, I will be skiing in NZ in my BONDS!
Here is my video of me completing my BONDS Ski Challenge: https://youtu.be/3zf9vWhBpBo
We challenged BONDS to match us Dollar for Dollar, and they generously have accepted the offer, they are still matching donations!
In October 2006, James McReady-Bryan was like any other 19-year-old boy, however while out celebrating his upcoming 20th birthday, James' life changed forever.
James was the victim of a serious, cowardly assault; resulting in catastrophic permanent brain injuries.
In February 2007, the JMB Foundation was established to help fund James' ongoing treatment. The foundation has since expanded to represent not only James, but the thousands of other young Australians who sustain Acquired Brain Injuries (ABI) every year.
The JMB Foundation aims to improve the shortfalls in the medical, financial, political and social services systems, in which young lives are saved but then not adequately supported.
Two out of three acquired brain injuries are sustained before the age of 25.
More than 6,700 young people across Australia are forced to live in aged care nursing homes bebause they have nowhere to go.
We want your help to change that.
I'm running my first ever half marathon to raise much needed funds for the JMB Foundation.
I am particularly passionate about the JMB Foundation, as I realise that I could also easily be in James's position. I now work closely with James as his key worker at the residential rehabilitation service where he now lives.
James and I have a fair bit in common, we both went to Carey Grammar, barack for Geelong and share a similar love for music. At a young age of 19 in 2006, James had a bring future ahead of him, but one punch out on the town meant that James's story took a dramatic and drastic turn.
I am running in support of James and other Australians who are living with an ABI.
I am also running to raise awareness about the cowards punch.
One punch can change everything. It takes true strength to walk away.
Please consider supporting me as I run my very first half marathon for the JMB Foundation.

JMB Foundation - The James Macready-Bryan Foundation
The JMB Foundation was established in 2007 to provide support for the rehabilitation of James Macready-Bryan after he incurred life-changing injuries to his brain as a result of a serious assault in October 2006, when he was just 20 years old. James fell, unconscious, hitting his head on the pavement. Unfortunately, when he fell, he also fell through a gap in our social support system, which provides very limited funding for the care and rehabilitation of young acquired brain injury patients.

The Foundation has two main aims:  to provide financial support for care and rehabilitation, not only for James, but also for other young sufferers of an acquired brain injury (ABI);  and to give a public voice to those young people – who all too often literally cannot speak for themselves – and to their families and carers.

Our fundraising allows us to provide vital financial support for additional services in care facilities, for the provision of better and more appropriate home care, for participation in community activities that are otherwise out of financial reach for many, and for equipment and home modifications that may mean the difference between a young ABI sufferer living in a care facility and being able to live at home.  Funds that we provide make a genuine difference to the care, comfort and quality of life for these young men and women.
FUNDOMETER
Target
$15,000
Raised So Far
$14,161
Target
$30,000
Raised So Far
$37,011
Team member of JMB Foundation: Running for James Macready-Bryan and young people with ABI
View
My Total: $14,161
Team Total: $37,011

The JMB Foundation is an associate charity for the 2015 Medibank Melbourne Marathon Festival.

On Sunday 18 October, our supporters will come together to run for those who can't.
Some runners and walkers will go the extra mile and fundraise for the JMB Foundation. You can be one of those people, and know that your support will mean that much-needed funds can be made available for young Australians who live with a severe acquired brain injury (ABI). These funds go towards providing additional therapy, care, vital equipment and the opportunity for participation in community activities. Every dollar helps to make a genuine difference to the comfort and quality of life for a young person with an ABI.
It's easy for you to help! Now that you have set up your individual fundraising page, you can join our JMB Foundation fundraising team. Just click the JOIN TEAM button above right. Every dollar that your supporters donate will add to your individual fundraising total, AND add to the JMB fundraising team total.
The JMB Foundation has been involved in Melbourne Marathon Festival event for the past eight years, fielding some of the largest teams of participants and consistently enjoying team success. We are fortunate to have such enthusiastic support, not only from runners but also from volunteers who help us contribute to the overall management of the event.

Thank you for your support and helping to make a difference.
Biggest Supporters:
Bonds: $5,000.00
Ross Campbell: $530.00