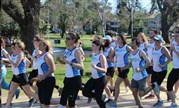 Laura Beaton

Expires
Monday, 22 August 2016
Running for a healthy planet and healthy people
Hello!
This October 18th, Team DEA is back! Doctors for the Environment Australia's members and friends are running together to support a very important cause.
The scientific health community  (WHO, Lancet, BMJ, AMA) warns that climate change is the major threat to human health we currently face. The Lancet's seminal series also shows us that actions to protect our climate will have many health co-benefits, and we have the technology to act now.
Doctors for the Environment Australia's volunteer doctors and medical students work to protect human health through care of the environment. Our team is running to raise awareness of the health risks of climate inaction and the health benefits to be gained from action! We are raising funds to support the vital work DEA does to acheive this.
This year DEA's Professor Fiona Stanley has captured the essence of the urgent need to act and protect our children's health. 
We appreciate any contribution, big or small. None of DEA's activities would be possible without the generous support from our members and donors.
Donations made through this platform are secure and will be remitted directly through to DEA. Donations over $2 are tax deductible.
Thanks so much for your support!
Please share this webpage widely with anybody you think might be interested in making a difference.

Doctors for the Environment Australia Inc
Doctors for the Environment Australia is a voluntary organisation of medical doctors and students in all states and territories of Australia. We work to address the diseases – local, national and global – caused by damage to the earth's environment. For example, climate change will bring to Australia an increased burden of heat stroke, injury from fire and storm, infectious diseases and social disruption and mental illness; whilst in the developing world it will bring famine and water shortage.

The medical profession has a proud record of service to the community. This record not only includes personal clinical care, but also involvement in global issues that threaten the future of humanity. We aim to use our scientific and medical skills to educate governments and industry, the public and our colleagues by developing educational materials such as Policies and Posters and by direct contact, in the endeavour to highlight the medical importance of our natural environment. To our patients we try to provide a role model in the care of the environment for this is part of a preventative health ethos.

To find out more about the work we do visit our website www.dea.org.au
Please make sure you are LOGGED IN. You can only join a Team Leader page if you are logged in and have an Individual page created. If you do, it will be displayed here once you've logged in. If you don't, please return to the 'home page' and follow instructions on how to create your Individual page.
FUNDOMETER
Target
$30,000
Raised So Far
$1,070
Target
$30,000
Raised So Far
$7,481
Team Members
My Total: $1,070
Team Total: $7,481.10
Biggest Supporters:
Fiona Bruce: $250.00
Kristen Pearson: $106.00